Top of mind, what are the first five Everest books that come to mind for you? And who wrote them?
Not necessarily the best written or the best selling Everest books, but those books that pop up almost subconsciously and rise to the top? In looking at the top 5 most memorable and inspirational books here, almost all involve a new route, and for all but one, I've been fortunate enough to have met the authors or climbers from the team.
As much as all the books are a great read, it was in meeting the authors, the personal conversations we had, and relating that back to their books, that was the most interesting.
All these books follow me around the world, from bookshelf to bookshelf, not necessarily to be read again, but because they are part of that emotional library, a part of life and a story on the shelf that just feels good to have close by.
Of course you can buy any of these from Amazon, but for the personally signed, first editions, best to go to Michael Chessler, who has all the really good stuff – (no I don't get paid for this, I just prefer the finer books for the library.) 
1. Chris Bonnington: Everest The Hard Way
The title alone evokes the tome – did we ever assume there was an easy way up Everest? It certainly must rank as one of the boldest and the best of Everest book titles. It immediately takes the worlds' tallest peak and adds a challenge on top of that, of humans taking the earths tallest point and making it their own, not satisfied with simply getting to the top.
As much as the book follows the traditional planning and funding:  a walk in, a climb, summit and descent; the competitive nature to get up the face first, to accomplish what no-one else had on Everest yet: it all sets the stage long before Base Camp is reached.
It is hard to get a better cast of characters, from the enigmatic Dougal Haston to the taciturn Doug Scott, the climbers who excel at their craft. Bonington, while ever the diplomat, doesn't bury the egos or the drive too deeply for us to see the workings of a highly competitive and talented team.  With the final chapters a bold push for the summit, an incredibly high bivouac, and then the tragic disappearance of Mick Burke, it is an adventure that wraps up with Bonington finishing the book with a sense of gratitude:
"We, however, shall always feel fortunate and privileged to have been able to unravel the complex problems that were presented by the world's highest and steepest mountain face."
Certainly very good words for this time.
This sense of gratitude, for what the heights offer us, the challenges we must rise to, the sense of comraderie and friendships that seem to be best built in the hills, flows through Everest, The Hard Way, and in meeting the author, flows into his life itself.
Meetings with the Author:
My first meeting with Chris was at an improbable gathering in Lhasa, Tibet after our Everest Kangshung Face Climb. Chris and team were just back from Menlungtse and Ed Webster and I were moping about with lassitude and frostbitten fingers suffered on the heights of Everest.
Reinhold Messner was in town as well, back from stomping over the hills looking for the Yeti – all making for good companionship and lively dinner conversations, with long breakfasts and while wandering the back alleys of Lhasa looking for lunch.
After three days stuck in Lhasa with flight delays, Chris was the first to humbly pick up an extra duffel bag of ours as our frostbitten fingers wept with pain, and without saying a word dragged them along behind him. He made sure we got on the plane and back to Beijing safely. After hearing tales from my British climbing friends of the exclusivity of the "Bonington Boys" teams, having Chris lend an unasked hand as a bag handler was certainly welcome.
Thirty years later, accompanying him through the streets of New York, it was great to see his approach was still much the same, as we eschewed a taxi, Chris threw his bag over his shoulder and we marched the 12 blocks to his lecture at the American Alpine Club's Annual dinner. An enthusiasm for mini-adventures, meeting new people and gratitude for the peaks and the people who love them still well intact.
2. Sir Edmund Hillary: High Adventure, the true story of the first ascent of Mount Everest
The absolute classic, with enough of the background and pre-Everest expedition details to set the scene, and the personal insights to make it compelling. As much as this account of the first ascent is a must read for climbers, it surprised me it was so well written, with a balance of the detail, personalities and mountain tales that brought it all to life. Many climbers just don't have the literary talent Ed thankfully had to tell his story.
The thing it doesn't reveal, and diplomatically probably shouldn't, are the superior climbing skills Ed had, with his background climbing in New Zealand's Southern Alps, with its grueling and tricky glaciers, long approaches, foul weather and often rotten snow and rock. This put Ed in a different league from the other climbers on the team.
In person, Ed was a climbers, climber: more comfortable talking gear, strategy, team and approach than working on the machinations or politics involved in a big expedition. Balanced with Tenzings great depth of Himalayan experience and previous 6 attempts on the mountain, they were the ideal team for the top and Expedition Leader John Hunt (who I was also fortunate enough to get to know as Honorary Leader of our own Kangshung Face Expedition) clearly picked the winners.
Meetings with the Author:
Living in New Zealand and suddenly being suddenly invited on an Everest expedition, it was suggested I should meet Ed Hillary. When I asked "how?," in classic Kiwi style my business partner Daryl Hughes said – "oh just phone him up, I'm sure his number is in the phone book."
Which it was, and a short phone call led to a "perhaps you'd like to come round then," and a morning pouring over maps and books with Tibetan carpets underfoot and cups of tea at his home in a first meeting that lasted hours. Ed was at his best and could be very personable and enjoyable one-on-one, sharing information, advice and helping out other climbers, as well as the Sherpas of Nepal.
2.1 Tenzing Norgay: Tiger of the Snows
Very much the companion piece to Ed Hillary's book – a terrific read and one feels, that the writing by Ullman, reflects Tenzings true spirit. The tale alone, of growing up and participating in a host of Everest attempts prior to standing on the summit makes a great book in itself. And the Everest history, from the early Everest expeditions and life in Darjeeling, to climbing Everest and the fame that followed creates a full picture of a life very well lived.
Meetings with the Author's son:
While I sadly never had the opportunity to meet Tenzing, his son Norbu came on our expedition to the Kangshung Face, helping with our plans, sponsorship and trekking into Base Camp with us.  We followed that up with a lecture tour in New Zealand sponsored by American Express. As I hurried to finish my beer in Wellington before going on stage on night Norbu commented: "Its okay Robert, it's not like they are going to start without us." A Sherpa approach to life mixing truism and humour all in one.
2.2. Jamling Tenzing Norgay: Touching My Father's Soul
For a great insight into two generations of Tenzing climbers, this is a tale about Jamling Tenzing Norgays own ascent of Everest, accomplished during the fateful 1996 season on Everest and filmed for David Breashears Imax movie. It has the family connection, the unique Sherpa connection and is a great story, well told.
Meeting the Author:
Jamling is personable, knowledgable and a natural climber that with little fanfare, followed in his father's footsteps to the summit of Everest.
I've been fortunate to meet all three of Tenzing's sons over the years, from walking into the Kangshung Face with Norbu, to sharing the stage with Peter Hillary and Jamling at The Explorers Club annual dinner, to a dinner party in Brooklyn, New York with Dhamay. With their father's success they have all been educated in the U.S. while still sharing a long and very close connection to Nepal and Everest, as well as having the urbane sophistication of internationally lived lives.
3. Peter Habeler: Everest Impossible Victory
Perhaps one of the rawest of Everest accounts, this story rings very true on the personal ego's and team dynamics, while covering an accomplishment that many thought was impossible. A rare look inside the dynamic of one of the most successful climbing partnerships of all time, torn apart by what Habeler wrote here, and then reinstated as they both mellowed with age.
3.1 Reinhold Messner: The Crystal Horizon
The title would seem a bit out of the blue. But on the North Face of Everest, the expanse of snow, the altitude tunneling the vision, the single minded need to climb up the endless snow, the Crystal Horizon is very aptly named for the internal journey Messner takes into himself on the climb. Perhaps one of the best lines describing his ascent is:
"In my state of spiritual abstraction, I no longer belong to myself and to my eyesight. I am nothing more than a single narrow gasping lung, floating over the mists and summits."
Meetings with the Author:
After first meeting Reinhold in Tibet, I again saw him in San Francisco at an American Hiimalayan Foundation Dinner. He had always been interested and surprisingly supportive of my 7 summits solo climbs and when he inquired about the route I had done on Denali I had to suddenly pause and remember who I was talking to. "Your route," I said, referring to the Messner Couloir, which offers a great direct route to the summit of Denali that can be done in a simple, single push straight out of the 14.2 Camp in the basin, and is now more often than not, also skied. Messner inquired how long I had taken from Camp to the summit and when I told him nine hours, he leaned forward and said quietly, "I took eight."
4. Stephen Venables: Everest, Kangshung Face.
On one hand, including this book is totally unfair, as I led the expedition and feature heavily in the book. On the other hand, I should know whether it rings true or not, whether it captures the spirit of our climb from having been there.
As far as the climb, I have a bit of support from the master himself after Messner commented on our climb:
"The best ascent of Everest in terms and style of pure adventure."  Reinhold Messner
I think one of the hardest things to do is read about yourself, how others see you, particularly when still very active, in the midst of the fray, of putting up new routes, of comparing your achievements to others.
I had the chance to read Stephen's book in an early draft and soon found I was reading as someone detached from being part of the story, of wanting to know what would happen next, of what someone would say, where would the climb take them, what would the result be. And that's when I realized it was a really good book. I think I sent it back with about 3 suggestions, although Stephen would know better as he is much better on that detail than I am.
With Everest now described as a 'piste' by Messner, and having on my most recent ascent of the South side, done the entire climb from Base Camp to the summit without pulling my ice axe off my pack, hopefully someone will pick up this book and realize there is real adventure and some great routes still left on Everest if you dare to go 'off piste,' as described by Messner in his interview with Jim Clash in Forbes.
Meeting the Author:
Stephen Venables had been suggested as a teamate by Lord John Hunt, the Honorary Expedition Leader of our Kangshung Face Expedition.  Stephen flew over to New York, and as he had never been there before, I took the long ride out to JFK to meet him.
I well remember seeing him from afar come out of immigration, striding confidently down between the barriers – he was immediately recognizable as a man well connected to the earth and I thought "that is a man who can climb Everest without oxygen." Which was my one criteria on climbers I invited – as we had failed two years previously because the climbers were chosen for all kinds of reasons and the key climbing criteria, to actually be able to climb hard, had been forgotten. Perhaps I was just lucky, but when Stephen became the first Briton to summit without oxygen 6 months later, inviting him along certainly did prove fortuitous.
4.1 Ed Webster: Snow in the Kingdom
Ed's magnum opus, with the title taken from Radio Nepal's 8 p.m. weather forecast that we avidly listened for every night on an intermittent radio signal – that inevitably said: and tomorrow there will be: "Snow in the Kingdom."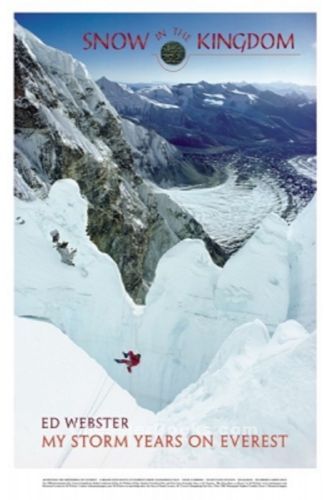 This book takes us through Ed's three Everest expeditions and perhaps more interesting, his life around the climbs and personalities associated with them. If there ever was a set of stories that helps to define the magnetism of Everest for us all, this does a great job of getting into the incredible attraction, push and pull of Everest dynamics.
5. Tom Hornbein: Everest West Ridge
Another book, like Hillary's, that defines the genre of great mountaineering accomplishments. With greatly diminished resources and support behind them, Hornbein and Unsoeld's ascent of the West Ridge stands out as one of the great Everest climbs of all time. And Hornbein is able to tell the tale with much of the expedition weight lifted, as there were other official accounts of the South Col climb.
And like some of the great climbing partnerships, like the Hillary/Tenzing, Habeler/Messner teams, Hornbein/Unsoeld's was a mix of diverse skills and approach that together created a much stronger partnership, with the ability to deal with the wide range of challenges and emotional barriers to climbing at altitude for days on end.
Meetings with the Author:
Tom gave our American Alpine Club New York chapter dinner talk – and what I really wanted to ask about was not Everest, but a notorious, little known, off- width crack that extends up the right side of the Diamond on Longs Peak and leads back up to Chasm view. As the usual approach to Broadway and the Diamond climbs that became a seasonal necessity for us Colorado climbers, the leering, dripping gaping cleft we rappeled down looked far worse than any of the fine finger cracks that grace the heights of the Diamond.
Tom, typically humble commented – "yes, not sure it gets done much anymore." In actuality, I'm not sure if anyone ever repeated it. Not dissimilar to the West Ridge, as team after team go out to 'have a look' and come back with their tail between their legs.
I've saved this book for last, but Jon's timeless and iconic book on the 1996 disaster on Everest is a modern tour-de-force of Everest literature. It weaves a cast of characters, the world's tallest mountain, personal insight and drama into one of the most powerful tales of mountaineering ever. It was a multiple best seller and made into the Hollywood movie, 'Everest'.
While it is a great read, it is also one of the few books I've read twice – the first time when it came out. The second, at Everest Base Camp prior to guiding a team to the top – as a refresher on all the things not to do to ensure a safe and successful ascent. I wrote Jon afterwards and pointed out that while I don't think he ever intended Into Thin Air as an instruction manual for climbing Everest, it did serve that purpose very well.
Meetings with the Author:
Jon is at best a reluctant public speaker as he readily admits and much more comfortable in the hills or with climbers, standing up in front of a crowd. The controversy that surrounded Everest and his book catapulted him into the unwelcome public eye. Jon has been active and very supportive of organizations like the American Himalayan Foundation, an organization he does agree to talk for and I shared a table with him following his lecture at The Asian Society in New York. With a mutual Boulder, Colorado heritage, talks of rocks, routes and the peaks dominated.
Knowing I would be sitting next to him, I'd made a point of reading his most recent book Under the Banner of Heaven. As much as Into Thin Air was a great climbing book, the religious themes, the inside look at America and its justice system and of the closeted life portrayed was vivid and remarkable.
Jon admitted he loved doing the research, digging into the facts and putting the pieces together. Then writing the book for him was just plain hard work. We are certainly fortunate he chose to put that work in on Into Thin Air.